Bacon-Wrapped Pineapple Bites with Sweet & Sour Sauce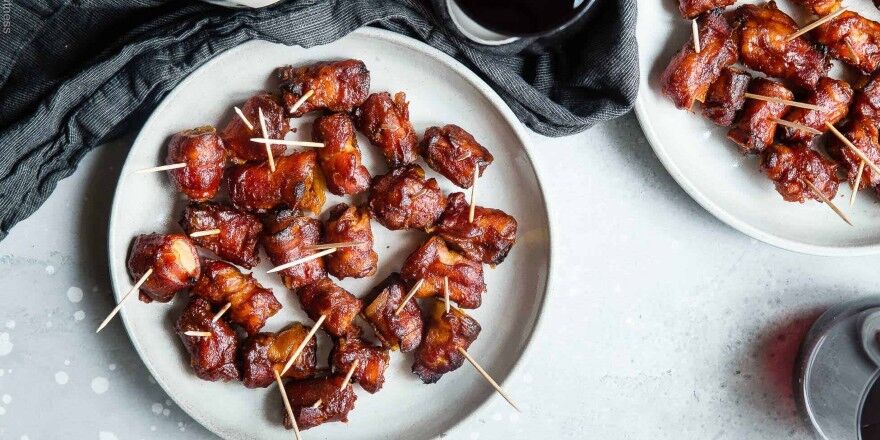 These Bacon Wrapped Pineapple Bites with Sweet and Sour Sauce are salty, sweet and so addicting! They're An easy, healthy, paleo and whole30 appetizer!
I KNOW you're ready to party it UP, and eat ERYTHANG with your hands. So, appetizers? YES PLEASE.
It's a tradition in my household to make appetizers for Dinner on Christmas Eve. There's usually Greek yogurt french onion dip, homemade crock pot chex mix, healthy California roll sushi bites AND bacon wrapped water chestnuts.
Whiiiiich is where these SALTY, SWEET AND SO SO TANGY bites of bacon-y BLISS come into action. They're like the classic, except without the water chestnut and WITH juicy bursts of pineapple and that thick, STICKY sauce that makes you go "heart eyes emoji" when you pop one into yo' mouth.
See also: was inspired to make these bacon wrapped pineapple bites because I just RLY RLY like to wrap things in BACON.
It's one of those things that if you think your recipe may not TOTALLY work, throw some salty goodness around that thang and, poof, face plant-able food in an instant.
I wonder if I could disguise some vegetables this way so that Mr.FFF would eat them…..ideas, you guys, ideas.
There is actually not a vegetable in sight here though, so let's move along.
JUST KIDDING. There SORT OF is. I mean, can we count tomato sauce as vegetable? I am going with YES because then it means we can get 20 of these bites in the name of getting daily vegetables. RIGHT? RIGHT.
How to make Bacon Wrapped Pineapple 101:
Cut your bacon into halves, WIDTH WAYS. Do not do length ways or the bacon is too thin.
Wrap it around a pineapple chunk. It WILL seem too big. But, once the fat cooks off the bacon, it will be PERFECT. PROMISE.
IMPORTANT: put a cooling rack on top of a tinfoil lined cookie sheet. This helps air circulate under the bites and makes them SO crunchy!
BAKE until ALMOST perfectly crunchy –> Add sauce –> Bake again.
EATTTTTTT.
Now that you know the basics, can we just talk about the sweet and sour sauce that is hugging each and every craveable bite of thesee of salty-sweet bacon wrapped pineapple bites? Yes, it IS the same sweet and sour sauce as the whole30 sweet and sour paleo meatballs.
You guys. This sauce tastes like the sweet and sour sauce of your childhood. EXCEPT without all the questionable ingredients. It's thick and naturally sweetened with chewy dates and has this underying grape flavor from GRAPE JUICE, with spicy notes of tabasco and allspice in every bite.
I MEAN. Don't you just want to go for a swim in that sweet, sticky sauce loaded with salty, pineapple wrapped in bacon-chunks-a-million? Maybe that's just me though.
No worries. I'll SWIM BY MYSELF.
So, let's break down what we have going on in this bacon wrapped pineapple recipe:
1) Salty, CRISPY and kinda smoky bacon

2) Sweet, juicy and VIBRANT pineapple.
3) SOUR and TANGY saucy goodness.
To be honest with you guys, I was a little hesitant about introducing my favorite meatballs sauce to some bacon wrapped appetizers. BUT, You know what?
I <3 it even MORE poured over top of these bacon wrapped pineapple bites It's thick and sticky and run-down-your-face delicious. The tell-tale sign of a good sauce for me is when Mr. FFF has to wipe my face down like I'm 5 years old.
No face-wipeage = no Bueno in my books.
Bacon. Pineapple. Sauce. Face.
Ingredients
For the bites:
24

Strips

Whole30 compliant bacon

1

20 oz

Tin of pineapple chunks

drained (about 48 chunks)
For the sauce:
3/4

Cup

100% grape juice

(not from concentrate)

1/2

Cup

Canned tomato sauce

1/4

Cup

Dates

(very lightly packed - 42g)

2

Tbsp

Apple cider vinegar

1/2

Tbsp

Tomato paste

1/2

tsp

Dry mustard

1/4

tsp

Sea salt

1/4

tsp

Tabasco sauce

1/8

tsp

Pepper

Pinch Ground allspice
Instructions
Preheat your oven to 400 degrees. Line a cookie sheet with tinfoil and place a cooling rack on top of it,

Stir together ALL of the sauce ingredients in a medium pot and bring to a boil on high heat. Once boiling, cook for 1.5 minutes, stirring frequently.

Once the sauce has boiled for 1.5 minutes, turn the heat down to medium and simmer until the sauce begins to thicken and reduce, about 9-10 minutes, stirring frequently.

Once reduced, pour the sauce into a high powered blender, or small food processor, and blend until smooth. Transfer to a measuring cup (you should have about 6 ounces.)

Pour the drained pineapple onto a layer of paper towel. Use another paper towel to gently press out excess moisture.

Cut all the bacon slices in half vertically. Then wrap half a slice around each pineapple - you can hold in some slices of bacon if they are super thick, but they shrink A LOT once cooking. Place the wrapped pineapple onto the cooling rack on top of the cookie sheet. You'll need to pack them together tightly to fit them all on. I also recommend putting them wrapped-side-down so that the bacon sticks to itself.

Bake until the bacon is nice and crispy and golden brown, about 37-40 mins. Reduce the heat to 375 degrees.

Rub ALL of the sauce over top of the bites, making sure you spread it on nice and thick.

Bake until the sauce is thick and cooked, but still a little bit "goopy", about 15 minutes.

Throw in some toothpicks and DEVOUR!
Nutrition
Calories:
210
kcal
|
Carbohydrates:
19.3
g
|
Protein:
8.7
g
|
Fat:
10.6
g
|
Saturated Fat:
3.8
g
|
Cholesterol:
22.5
mg
|
Sodium:
722
mg
|
Potassium:
289
mg
|
Fiber:
1.7
g
|
Sugar:
13.1
g
|
Vitamin A:
340
IU
|
Vitamin C:
25.2
mg
|
Calcium:
14
mg
|
Iron:
1.2
mg