Asparagus Stuffed Chicken Breast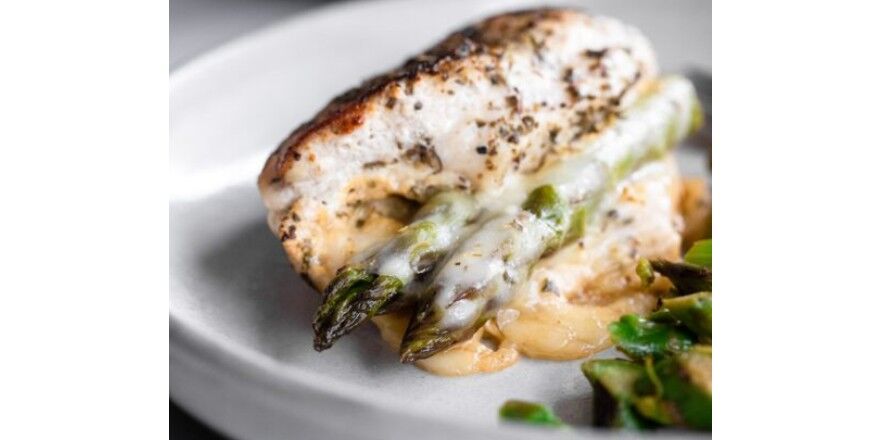 By Taylor Kiser, FoodFaithFitness.com
Okay FFF fam, what is it about stuffing things inside chicken that just makes it SO MUCH BETTER?
I could eat goat cheese stuffed chicken breast, everything bagel chicken or THIS stuffed chicken every single day.
Probably because it usually involves cheese and we all know everything is better with cheese right?
Also, before we even go further, pro tip: buy the pre-sliced provolone cheese to make this recipe and thank me later for the time saved. <–And if you have leftovers, just make philly cheesesteak stuffed peppers!
ASPARAGUS STUFFED CHICKEN BREAST
INGREDIENTS

I love chicken breast. It's such a versatile protein and there are SO many fun ways to dress it up to complement its flavor and texture! It's also pretty easy to cook and goes well in so many different dishes. THIS asparagus stuffed chicken breast recipe takes chicken to the NEXT LEVEL because I've stuffed it with cheese and asparagus! Serve this easy, healthy recipe up at your next dinner party and you're going to have your friends thinking you're a gourmet chef. Here's what you'll need to make it happen:
HOW TO MAKE
ASPARAGUS STUFFED CHICKEN BREAST
Now that we have rounded up all our delicious ingredients, let's get this show on the road! You're going to have a top notch dinner meal to share with friends and family in no time at all! Here's how to make this stuffed chicken and asparagus:
Preheat
Set your oven to 425 degrees Fahrenheit and let it preheat fully.
Season
Slice the chicken breasts almost all the way in half, but leave them attached enough so that they stay in tact. The chicken breasts should be able to fold open. Inside each chicken breast, sprinkle some garlic powder, italian seasoning, and a pinch of salt. There's no need to measure! Sprinkle italian seasoning on the outside of each chicken breast.
Assemble
Spread 1 teaspoon of honey mustard on the inside of each chicken breast. Add a slice of provolone cheese and 2 asparagus spears on top. Fold the chicken over and secure it with toothpicks if needed.
Sear
Heat up the olive oil in a large, oven-safe pan to medium heat. Place the chicken in the pan and cook 2-3 minutes or until golden brown. Flip each chicken breast and cook the same amount of time on the other side.
Bake
Cover the pan with tinfoil and place it in the oven. Bake until the chicken is done, which should take about 15 minutes.
Enjoy
Serve it up and DEVOUR!