Cranberry Sausage Classic Dressing
Corn Bread Stuffing
According to a new survey by Mrs. Cubbison's Kitchen in Los Angeles, celery and onions top the ingredients list, then regional differences come into play:
People in the Northeast and West are more likely to add carrots and sausage.
70 percent of people in the South and 60 percent of people in the Northeast said they like to cook stuffing in a casserole dish.
58 percent of people in the West and 45 percent of people in the Midwest said they prefer to cook it in the bird.
While traditional Thanksgiving dishes are preferred in most regions, about one in five families say they now consider special diets when preparing their menu including gluten-free, vegetarian, diabetic and kosher options:
Gluten-free and vegetarian choices are popular in the West.
The South and Midwest offer items for those who are diabetic.
The Northeast and South offer lactose-free and kosher dishes.
The survey also found that when asked which Thanksgiving dishes are handed down from previous family generations, "stuffing" was by far the most important. But the term for this dish differed depending on locale - Southerners refer to the dish as "dressing," while people in the East, Midwest and West say "stuffing."
No matter where you live, you can ensure big flavor at your holiday table when you use family-favorite recipes like these. Get more Thanksgiving recipes at www.thanksgivingtips.com.
Cranberry Sausage Classic Dressing

Ingredients
1 1/2 pounds pork sausage, crumbled
1/4 cup butter, unsalted
1 cup celery, chopped
1 cup onion, chopped
2 teaspoons garlic cloves, chopped
2 6-ounce packages of Mrs. Cubbison's Classic Seasoned Dressing
1 cup walnuts
1 cup cranberries, dried sweet
1 each Granny Smith apple, peeled, cored, chopped 1/2-inch
1 tablespoon sage, fresh, chopped
1 1/2 cups chicken broth
Preparation
Preheat oven to 350°F.
Place sausage in a large, deep skillet. Cook over medium high heat until evenly brown.
Stir in butter, celery, onion and garlic; sauté until translucent.
In a large mixing bowl, combine dressing, prepared sausage and vegetable mixture, walnuts, cranberries, apple, sage and chicken broth.
Transfer mixture to medium buttered baking dish. Bake covered in preheated oven 30 minutes; uncover and bake additional 20 minutes until lightly browned.
Serves
Servings 10
Preparation Time:
30 minutes
Cook Time:
50 minutes
Corn Bread Stuffing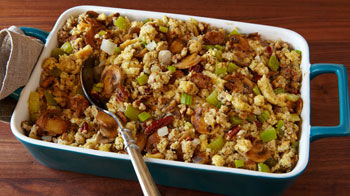 Ingredients
1 cup butter (2 sticks)
1 cup onion, chopped
1 cup celery, chopped
1 1/2to 2 cups liquid or broth*
1 box Mrs. Cubbison's Seasoned Corn Bread Stuffing
Preparation
Oven Casserole Directions - Preheat oven to 350°F. In a large saucepan, melt butter on medium heat, sauté vegetables until translucent.
Combine stuffing mix; stir in liquid* gradually and blend lightly.
Place stuffing in greased casserole dish, cover and bake for 45 minutes. Uncover last 15 minutes for crisper top.
Notes, Tips & Suggestions

Top-of-Stove Directions
Prep Time: 10 minutes
Cook Time: 10 minutes
In large saucepan, melt butter on medium heat, sauté vegetables until translucent.
Stir in liquid* gradually and bring to a boil over high heat. Cover and reduce heat to simmer for 3 minutes.
Turn off heat, add dressing mix and blend lightly. Cover and let stand for 5 minutes. Fluff with fork and serve.
*Use more liquid for moister stuffing, less for drier.
Preparation Time:
10 minutes
Cook Time:
45 minutes
SOURCE:
Mrs. Cubbison's