Music Review: Sara Groves Delivers Songwriter's Album with "Fireflies & Songs"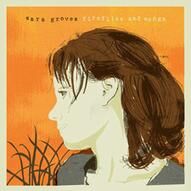 NASHVILLE, TN...As one of the industry's most prolific and most–celebrated artists, Sara Groves will deliver her most personal recording yet, and what she describes as her â songwriter's album,' "FIREFLIES & SONGS," on November 17th.
With her two previous INO recordings, Add to the Beauty and Tell Me What You Know, Groves focused on a theme and wrote poetic commentary with songs about social justice and the impoverished. However, early in the pre-production process of "Fireflies & Songs," INO Record's president Jeff Moseley suggested that "It's been a long time since we've heard from you," saying, "I want to check in with you. What's happening now in your life? What is life like for you as a wife, mother, daughter and friend?"
"As soon as he said that, I knew it was true. As a songwriter, it's easier to step back and take an observer's view, and that's what I'd been doing the last couple albums," she recalls. "Of course, I'm in all those songs, and they're personal, but I wasn't 'digging in the dirt' for sure. It's hard to do that. It's hard to say, 'Here's my stuff. I'm not writing about other people's stuff.'
"As I started writing, I revisited some things that have taken place over the last 15 years of marriage," she says. "It wasn't all exactly current, but it was stuff that I hadn't written about yet, and it was good to do so." Soon she had her first conversations with producer Charlie Peacock about the album and, at one point, asked if he had any early direction for her. "I want you to enjoy God and the gift of songwriting," he replied.
"I just burst into tears," says Groves. "I don't think anyone has ever told me to do that. And that's what I did. I cried like a baby as every single song came out. And as they did, I thought, I'm more grateful today that I get to do this than ever before." Even now, as she recalls the experience, her eyes well with emotion.
Listeners will relate as songs like "From This One Place," calls out to God in response to tangible and recurring anxiety, while the flowing, moody "Eyes Wide Open," is both confessional and declarative, saying, "I've got layers of lies that I don't even know about yet," and concludes, "When the lights come up on this town/When the thing goes down/... I wanna be telling the truth." The gently pleading "It's Me" is at once stark and reassuring as it paints a personal picture of the often polar push and pull couples experience as they pursue a genuine marriage relationship.
Fireflies & Songs also expands on the Groves' determined efforts to nurture other marriages by being open about their own shortcomings and lessons learned. Perhaps the most intimately vulnerable song of all is the stealthily titled "Different Kinds of Happy." As she sings, "I've got to ask you something/But please don't be afraid/There's a promise here that's heavier/Than your answer might weigh," she foreshadows redemptive truth amidst emotional danger.
While Groves is the first to confirm Fireflies & Songs is the "most her" musically, it's also the singer's most candid recording. "I tried not to teach on this album," she explains. "And I'm a natural-born teacher. I turn everything into a lesson--for myself, for the people around me. That's how I process my life, that's how I learn. But I wanted Fireflies & Songs to feel more like friends and I are talking at Don Pablo's over nachos and cheese. I'm trying to be more confessional, and I hope these songs encourage other people to live confessionally."
Groves is currently doing one-off dates throughout the U.S., and will launch her own O HOLY NIGHT Christmas tour later this fall (tour dates below). For more information please visit http://www.saragroves.com/.
Tour dates for O HOLY NIGHT Christmas Tour:
October 2009
10/2, 3 Alexandria, MN
Bridging the Gap Womens Retreat
Lake Geneva Christian Center
320-763-3680
10/13 Nashville, TN
International Justice Mission Benefit
www.ijm.org
10/ 14 San Diego, CA
Maranatha Chapel
7:00pm
858-613-7800
www.maranathachapel.org
December 2009
O HOLY NIGHT Christmas Tour
12/3 Scotch Plains, NJ
Evangel Church
8:00pm
908-322-9300
www.evangelchurch.com
12/4 Presque Isle, ME
Presque Isle Weslyan Church
207-764-5187
7:00pm
12/5 Bangor, ME
Bangor Baptist Church
207-947-2751
6:00pm
12/6 Manchester, NH
Manchester Christian Church
603-622-9677
6:00pm
12/8 Hershey, PA
Hershey Free Church
7:30pm
717-533-4848
www.hersheyfree.com
12/10 Des Moines, IA
First Assembly
7:00pm
515-279-9766 www.desmoinesfirst.org
12/ 11 Green Bay, WI
Cup O' Joy
920-435-3269
6:30pm and 8:45pm
12/13 Niles, OH
Pleasant Valley Church
6:00pm
330-979-1440
www.pvchurch.net
12/17 Alexandria, MN
Alexandria Covenant Church
6:30pm
800-658-2229
www.praisefm.org
www.alexandriacovenant.org
12/18 Maple Grove, MN
Church of the Open Door
7:00pm
www.thedoor.org
12/ 20 Springfield, IL
Calvary Temple Christian Center 7:00pm
217-546-9700
www.calvaryspringfield.org