Music Review: Sara Groves' "O Holy Night"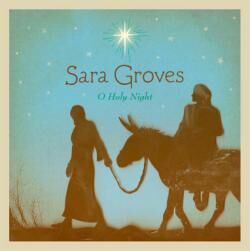 By Matt Conner, ccmmagazine.com
Effortlessly moving between the meaningful and the whimsical comes the first Yuletide release from Sara Groves, one of the most brilliant artists caroling on the contemporary Christian porch. And it's about time.
In the accompanying press materials for O Holy Night, Groves mentions that she's always wanted to make a Christmas album, and it's clear that much thought and consideration was placed into such a release. The sequencing is perfect from beginning to end, drawing the listener right into the beauty and depth of the Christmas narrative and keeping the audience attuned throughout the duration.
"It Came Upon A Midnight Clear" receives a slight U2-esque electric treatment, especially around the bridge. The result is the most striking track on O Holy Night, and Groves' vocals work particularly well here.
Groves' higher register comes into play on the title track, "O Holy Night." The song soars with her voice before softly coming back to earth along with the acoustic guitar. The arrangement of this particular tune is very pretty and provides the most sufficiently somber moment on the album.
The most buoyant and fun moment comes courtesy of original track "Toy Packaging." On it, Groves laments the wrestling match known as "some assembly required" when she sings, "Nothing makes me lose my cool like toy packaging/Ask the kids to leave the room, it's time for toy packaging." It's a nice reprieve from the rest of the album.
As the collection closes with a beautiful rendition of "Silent Night" and the Groves family singing "Go Tell It On The Mountain," you realize that you've experienced everything the holidays have to offer all on one complete disc. It's a strong Christmastime effort that deserves your attention.
---
Used with permission,