Music Review: Robby Seay Band's "Miracle"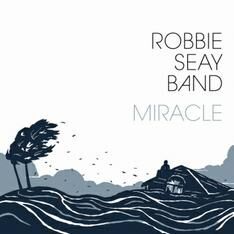 Robbie Seay Band makes their home in Houston, TX where they work, serve and love their local community. The band leads worship at Ecclesia, a church in the Montrose area of Houston where Robbie's brother, Chris Seay, is the teaching pastor. Robbie and his brother started the church and have watched God do some amazing things throughout the last several years. Many of the songs Robbie Seay Band writes and performs are inspired by events and people within Ecclesia and the community there, so his albums are testimonies of what God's faithfulness, our humanity and how they intertwine as we live our lives. Robbie's new studio album Miracle is just that, an honest and real collection of songs oozing with the vibe of Robbie's laid back vocals providing music fans with lyrics that encourage, strengthen, and challenge believers. The title track "Miracle", is a moving prayer to our Creator asking for Him to intervene and is the lead single.
A reflection of Seay's work and relationships within Ecclesia Church in Houston, Miracle captures thoughts, feelings, and realities of his local community. Miracle is a collection of songs inspired by the real life stories of those around him. It is a call and response to life, to what God is doing in their midst, as it happens. Seay wrote the album's title track, for example, in reaction to a friend who was diagnosed with cancer, while "Lament (We Cannot Wait)" was penned to express the grief of his congregation over a church member's death.
Opening track "Love Invades" grabbed me right away, similar to Robbie's opening track "Rise" from Give Yourself Away. "Awaken My Soul" is a great prodigal song and reminder that God pursues each and every one of us. "Kingdom And A King" talks about the church moving together to reach those in need. The song is quickly becoming my favorite track on the album as in this era of political uncertainty the cry of my heart is to be a citizen of Heaven and to serve my King. This song so accurately reflects my feelings of loyalty to my King Jesus. "Crazy Love" might be the most catchy track on the album and has a sincere cry to God to forgive our mistakes and learn to rely on His grace and love.
The title track and first single of the project, "Miracle" came in the wake of devastating news. Robbie says "I remember getting a phone call from one of my closest friends. â Kristy has cancer. It doesn't look good, but we're believing for a Miracle.' I wrote the lyrics the next day. I prayed and believed with him. Kristy, wife and mother of three young boys would die two months later. The song is not a promise of a miracle. It is, however, the declaration that we all will find ourselves in great need of one at some point in our lives - and in those moments, we choose to believe even when we can't see our hands in front of our face." The song is very convicting and a sobering reminder that God brings trials to remind us how much we need Him. I love the song order as the next song is an amazing cover of the Jon Foreman song "Your Love Is Strong," which is a worshipful response back to God including the words to "The Lord's Prayer."
"Let Our Faith Be Not Alone," sung by Ecclesia for more than a year before Seay recorded it, is a song meant to encourage the church as a community of faith. The next song "We Are Not Alone" was co-written with Hillsong United writer Mia Fields and continues the theme of community, which is really the theme of the entire record. "Long Way Home" is a love song from Robbie to his wife and leads to the haunting "Lament (We Cannot Wait)," a stand out song on the album. The song was written in response to a tragedy affecting a close friend Karen whose oldest son was shot and killed. The song reflects another theme of the album, which is that God's grace is our only hope in times of grief and desperation.
This is a very emotional album and if you're not familiar with Robbie's passionate vocal style, this album is hook-filled with catchy melodies wrapped around very introspective, biblical and emotional lyrics. My favorite types of albums grow deeper with each listen, and Miracle is the deepest album I've heard all year. For sure, this album will be among my top albums of 2010.


---
Used with permission -