Music Review: Point of Grace, No Changin' Us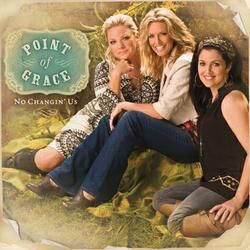 By John Bowen, Web Content Director
No Changin' Us is the first Point of Grace CD since their 2007 release, How You Live. (Okay, so they did a Christmas CD in '08 - but I don't play that CD outside of December.) With How You Live, Point of Grace took a conspicuous stab at entering the country music market. That endeavor must have been a successful one because that trend continues with No Changin' Us.
No Changin' Us is a definite country/lite rock mix. It's filled with Point of Grace's excellent signature vocal harmonies that we've come to expect from the group, plus meaningful female-leaning lyrics and pristine production. But it continues the group's sharp left turn away from the mainstream modern worship style within much of Christian Music. The prominence of fiddle, mandolin, dobro, and lap steel guitar keep the trio firmly planted in the country or new-country realm. And significantly, (or perhaps it's the new "typical" for Point of Grace) there is a distinct mix of both secular and Christian lyrics within the songs here - another departure from the rest of the Christian music pack.
"He Holds Everything" is a strong catchy start to the CD. Really, it's about the hardest driving song on the CD, with the largest nod to guitar-driven rock among the collection. The message of maintaining hope in the Lord in spite of what life spews out is well-conveyed.
â Cause every single sparrow flies/and every single broken soul that's cryin'/ He can see
Yeah, you're in His reach…
For a title track, "No Changing Us" is a pretty low-key sentimental journey. It's a reminiscing thoughtful love song, set with a largely acoustic new country feel – talking about how time changes so many things, except a couple's love for each other.
I still love you the way I did back then/and you love me the same way you did when/
We said we would and you know we did/'cause we always have and we always will/
They say that everything changes, and it does…
But oh…there's no changin' us.
"Love and Laundry" is a care-free, almost bluegrass romp; dedicated to the wife-and-mom who simply doesn't have enough time in the day. Bringing out the fiddle and the dobro, it's a humorous look at how today's mom (perhaps the POG gals) try to "fit it all in". Another upbeat song that you have to smile at is "The Greatest Show on Earth", where the lyrics can only come from toys all over the floor and a lawn that needs mowing. If you've watched any of the ladies' video blogs on www.youtube.com, you know these ladies have a sense of humor – which is conveyed in these fun songs.
As stated above, the song "No Changin' Us" nobly refers to a couple's love for each other. However, it could also apply to Point of Grace's unchanging signature vocal sound. That's a good thing and a cautionary thing. A good thing for those who love the ladies' familiar flawless first-rate harmonies and bell-like vocal style. (Do they EVER sing out of tune?) It's a cautionary thing when all of Christian Music continues to morph to a guitar-driven modern rock sound, yet "your" band keeps its signature harmony-based vocals and ventures into cross-over country. But, having been in existence for 17 years, selling more than five million albums, winning eight Dove Awards and receiving two Grammy nods, earning two platinum and five gold albums, with more than two dozen No. 1 hits – no one can dispute Point of Grace's accomplishments in Contemporary Christian Music. So do these ladies need to prove ANYTHING musical to us? Absolutely not! Then let the musical experiment begin!
Buy No Changin' Us knowing that you may not know which category it fits in your CD collection. Some of the lyrics are secular; some are clearly faith-inspired. Is it Christian? Is it Country? It's definitely not Southern Gospel…..but it also doesn't quite fit in the same Christian CD category next to your David Crowder*Band and Kari Jobe CD. Aw heck! Just get it anyway and enjoy it for what it is – a mature Point of Grace that has carved out an easy pop/country sound and style all its own.