Music Review: Phil Wickham's "Heaven and Earth"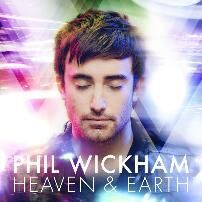 In some ways, the seed that eventually grew into Phil Wickham's third studio album, Heaven and Earth, was planted while reading Donald Miller's Searching For God Knows What, which happens to be one of my all-time favorite books. There is a chapter about Adam and Eve and how humanity falls in the first chapter of the Bible. Like Phil, I am also very moved thinking about the concept of struggling with our separation from God knowing that we had Paradise. First song "Eden" is all about that idea and right from the first notes of Heaven and Earth, Phil had me hooked both musically and lyrically. Even with the critical acclaim he's garnered, for the first time in his career, Wickham feels that he has a story to tell: he wants to remind the Church for what and who we are created for. The album continues with "Coming Alive" and if you like mainstream Brit-rock artist Keane, then you need to get this album. Not only does Phil's vocal style resemble Tom Chaplin, but musically his tight guitar licks and synth-rock style also reminds me of U2 and Coldplay which is pretty amazing company in my opinion.
What sets Phil apart from those best-selling mainstream artists is his sincere and unapologetic faith-filled Christian lyrics. Title track "Heaven & Earth" features Phil's signature soaring vocals with these very convicting words: "these are the lines we're choosing to cross, between heaven and earth." That sentiment is really our calling as Christians to live by faith and be in the world but not of the world. Possibly the most catchy track on this very catchy album is next with "The Time Is Now". The song has another calling for Christians: "let's be the resistance, it's time, the time is now for lifting souls, the time is now for letting go, let light and love come rushing through the door." As I delved into the amazing lyrics the song swirled musically with a great electronic string melody that I've been humming all day. As if I couldn't be more impressed musically, Phil knocked my socks off with next track "Hold On", one of my favorite songs ever by Phil Wickham. If you like "Spiralling" by Keane, you need to hear this song. Musically it picks up where "Crumble To Pieces" and "Must I Wait" left off, but takes it up a notch with a synth-dance rock beat and extremely catchy and very sing-able lyrics: "love is going to make it right, just hold on, just hold on, there's mercy in the morning light, when you're weak, love is strong, hold on."
The first single on the album, "Safe" also features a duet with MercyMe's Bart Millard who just so happened to be passing through San Diego as Wickham was recording the song. The lyrics of "Safe" serve to encourage, strengthen and remind listeners that they are not alone as they say, "You will be safe in His arms, You will be safe in His arms, the hands that hold the world are holding Your heart, this is the promise He made He will be with You always, when everything is falling apart you will be safe in His arms." The next four tracks "I Will Always Love You", "In Your City", "Your Arrival" and "Because of Your Love" all keep Phil's emotional vocals and catchy musical style going as a great musical experience leading up the two closing tracks "Cielo" and "Heaven Song" which bookends the concept started with "Eden". "Heaven Song" has Phil quietly confessing "Oh my God, I'll be ready for You, I want to run on greener pastures, I want to dance on higher hills…my soul is getting restless for the place where I belong." This album is just filled to the brim with Phil Wickham's brilliant songwriting, singing and musical style. He deserves multiple GMA award nominations and is my male vocalist of the decade!
Closing Thoughts:
This is definitely Phil Wickham's best overall album and one of my top 10 albums of 2009. For me the standout songs are "Eden", "Coming Alive", "Heaven & Earth", "The Time Is Now", "Hold On", "Safe" and "Heaven Song", which are all among Phil's best songs ever along with his all-time classics "Divine Romance", "You're Beautiful" and "True Love". I can imagine singing many of these songs with fellow believers and although Phil hasn't really been a radio fixture in the past, these melodies are off the charts and any test audience will have a hard time not giving these songs 5 star ratings. This is a 5 star album
Heaven and Earth Track Listing
1. Eden
2. Coming Alive
3. Heaven & Earth
4. The Time Is Now
5. Hold On
6. Safe
7. I'll Always Love You
8. In Your City
9. Your Arrival
10. Because Of Your Love
11. Cielo
12. Heaven Song
---
This review has been republished with permission from
.
Independent Reviews. Latest Releases. Christian Music Review