Music Review: Newworldson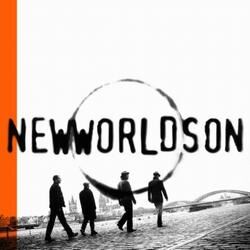 Newworldson's last week, self-titled release gets your heart jumping and fists pumping in the first few seconds of the album, preparing fans to get ready for a fun and energetic experience. This album definitely has the feel of an old time spiritual revival tent meeting, and the message to go along with it. "Listen to the Lord" is an awesome anthem; a call for Christians to listen to the Lord, and how that can change your life. You'll be chanting along with this one whether you want to or not. "David dusy in a desert land / Hidin' away from a tyrant's hand / He sang the blues and strummed that chord / And God said: play on Dave / He listened to the Lord…" Very pop-60's is "In Your Arms," a song about letting go of your fear and the things we hold on to, and just be in God's arms, letting Him hold on to you.
"There is a way" is already a familiar hit from Christian radio stations, however there are many good ones
on this album that also deserve air time, such as "Rocky Road," and "Commander." A theme that all
these songs have in common is dependence on God. Newworldson captures very well some of the basic essence of Christianity, and manages to proclaim a great message, while displaying their own musical styling and talent variety.
"We believe we have made the quintessential Newworldson record with this release," said front man Joel Parisien in a press release. "Salvation Station was a prequel to this project, which truly captures who we are as an artist. Newworldson is not only meant to share its unique, electric style of music with the world, but also to lift up others in their own genre of music, encouraging them to continue doing what they're doing."

Track Listing
1. You Set The Rhythm
2. Listen To The Lord
3. In Your Arms
4. There Is A Way
5. Do You Believe In Love?
6. That's Exactly (How I Like It)
7. Rocky Road
8. Commander
9. Total Eclipse
10. O Lament
11. Jamaican Praise Medley
12. Weary
---
Used with permission www.christianmusicreivew.org