Music Review: NEEDTOBREATHE, "The Outsiders"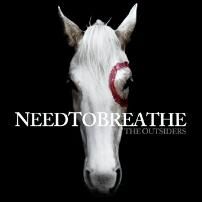 Simple statements often have the deepest emotional impact. Emotions and occurances are not hidden by flowery words and symbolic imagery. That is a platform on which Needtobreathe finds its grounding, and finds a unique way to relate to the listener.
Formed in 1999, the four guys of Needtobreathe have lots of performing experience, and three independently released CD's to their credit. Their first major label CD, "Daylight," was released in 2006 under Sparrow records. "The Heat" came out in 2007, and their newest offering, "The Outsiders," debuted on August 25, 2009. Already receiving three Dove award nominations, this band is continuing to climb up the Christian music charts.
The title song, "The Outsiders," kicks off this shin dig with a catchy banjo and harmonica backed anthem that muses about being the outsiders in this life. It reminds me of the song from Earthsuit called "Foreign," which is about feeling like you are in too many places at once, and don't belong anywhere.
Although the band members have their origin in the south, their music is not rife with an over abundance of that so-called "country twang," which can be a turn-off for some listeners. However, having a more subtle southern undercurrent in the lyrics and music really adds to the band's singular style.
"The â Southern thing' is very scary to some people," said lead vocalist Bear Rinehart in a press release. "But for us, it's not so much a sound than a feeling. It's just about having some soul in the words you write, the music that you play. And it's something that just comes naturally to us." Bear also stated that "we know this is the best record we've ever made."
"Lay â Em Down" is definitely one of the gems of the album. Already played by radio stations throughout the country, this song is almost like an old time gospel revival message about laying your burdens down before the Lord. "All you sinners / and the weak at heart / all the helpless / on the boulevards / wherever you are now / … bring all of your troubles / and come lay â em down."
"What You've Done to Me" is about a painful break-up, which we've all experienced at one time or another. "I thought that love was just a song we made up / some kind of chant to make us strong / but when she left me with a word / I knew that I had never been so wrong." It's actually a sad song without a happy ending. It just expresses the pain of ending relationships; they leave you broken, and it feels like you can never heal. Some wounds take a long time to heal, and once the pain stops, there can still be scars left behind.
"Stones Under Rushing wWater" is another melancholy song about the passage of time, how it can come quickly and be hard. It is a very pretty melody. The song serves to remind us that we need to dance and laugh and not let the time slip away unnoticed. This song features guest vocals by Sara Watkins, singer with the Grammy award winning group Nickel Creek. (As an aside, Watkins is also launching a solo career, having just recently released her first album, simply titled "Sara Watkins.")
"Something Beautiful" is another album highlight, describing the desire to be touched by something beautiful. The song starts out telling the story of someone ankle deep in the ocean, and should he go in further? Will he drown? But if he stays by Christ's side he will not be overwhelmed, and will be touched by something beautiful. "And the water is rising quick / and for years I was scared of it / we can't be sure when it will subside / so I won't leave your side…"
Closing Thoughts:
Some of the songs are confusing in their message. They are a little too vague to really grasp what these guys are trying to say. However, the music itself is really enjoyable. It has a "Jack Johnson"-ish quality to its laid back candor. Over all, The Outsiders is really enjoyable and I think it is going to satisfy the Needtobreathe fan base. The last song really ends the album well, with a battle cry to love like Christ loves. Time is running out, we've got to get out there, be persistent, and tell the world about Jesus.
"The Outsiders" Track Titles
1. The Outsiders
2. Valley of Tomorrow
3. Through Smoke
4. Lay 'Em Down
5. What You've Done To Me
6. Hurricane
7. These Hard Times
8. Stones Under Rushing Water
9. Prisoner
10. Won't Turn Back
11. Girl Named Tennessee
12. Something Beautiful
13. Garden
14. Let Us Love
---
This review has been republished with permission from
.
Independent Reviews. Latest Releases. Christian Music Review