Music Review: Millard Repeats Classic Format on Hymned Again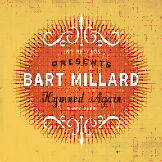 By Andrew Greer, ChristianMusicPlanet.com
It's not every day a multi-platinum selling "ccm" artist sidesteps his worldwide career to release a hymns record. Especially when this artist is fronting a band famous for its consummate contribution to the modern worship scene, helping reshape it into the industry it is today. But MercyMe's Bart Millard has taken the time to do just that, again.
Shuffling through 10 historic gems and one original tune, Hymned Again is a dazzling departure from MercyMe's more pensive pop/rock fare. Flinging the door wide open for interpretation, Hymned Again brilliantly stylizes its classic catalog with western swing, brassy big band, finger pickin' Dixieland, simple acoustic and waltzy blues and jazz.
Conjuring up scenes of Southern Baptist potluck, "Stand Up, Stand Up for Jesus" introduces the record, striking up a band that includes a thumping upright, strumming banjos and a wily clarinet.
Similarly, "I Saw the Light" broadcasts a blazing testimonial, while "What a Friend in Jesus" utilizes loose snare rolls, bleating horns, a saucy New Orleans-inspired woodwind and Millard's take it or leave it vocal to convict you out of the pew and down the aisle.
Even with all the roaring horns and foot-stomping arrangements, it is the soothing strains of "Jesus Cares for Me" that give this second installment of hymns its pinnacle. An impeccable duet with Vince Gill, Millard's voice so effortlessly harmonizes with Gill's sweet transport it's hard, at times, to discern who is singing whereâ "the true mark of a stellar collaboration.
Hymned Again is an unusual and oh-so-wonderful blend of melody, music and history that is unfortunately rare in today's capitalistic musical commerce.
---
©2008 ChristianMusicPlanet.com. All rights reserved. Used with permission.