Music Review: MercyMe, The Generous Mr. Lovewell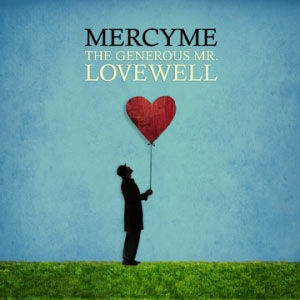 By John Bowen, Web Content Director

The Generous Mr. Lovewell is a fictitious character from the creative musical minds of MercyMe. The band has fashioned him to embody the good-hearted expressions of righteousness, love, and kind-heartedness that we should all should be engaging in. In Mr. Lovewell's world, doing good is never debated or contemplated; it's merely carried out from a heart of compassion. So how well does The Generous Mr. Lovewell album properly convey that same attitude to audiences?
The Generous Mr. Lovewell, MercyMe's 8th CD, is a higher energy work than previous releases. It's a good balance to the band's more contemplative classics like "I Can Only Imagine" and "God With Us". There is generous use of distorted guitars and heavy synth patches, all working together to create a tasteful tapestry of feel-good Christian music.
Some highlights…
"This Life" is a high energy electro-trance kick-off, reminding me of the Newsboys from the â 90's. The throbbing bass and rockin' drums lay the musical foundation for "This Life", sending the message that we were meant make the utmost of the life given us.
I don't have to stall/I don't have to wait
Don't have to bide my time/â Til I make my escape
â Cause heaven's in my heart/ I won't settle for less
I will lift up Your name/by the life I live
Every moment is a chance to let your life break through.
This Life – this life was meant to shine.
Slightly campy but ever so catchy, the title track "The Generous Mr. Lovewell" sounds like it takes some of its influence from The Beatle's Yellow Submarine movie. The boppy groove is similar to "So Long Self", but the distinctly novel and refreshing persona of Mr. Lovewell shines through in this original song. It clearly communicates that we need more Mr. Lovewell's in the world; spreading love just for love's sake. The background vocals and synth sounds really help convey an irresistible light-hearted character; balancing the more weighty Commission given to us to be lights to this world.
He wakes up every day the same/Believing he's going to make a change
Never wonders if but when
I guarantee he can find a way/to reach out and make somebody's day/'cause someone took the time with him.
Hey Mr. Lovewell, do in a day what you do everyday
No matter how small, believing that it's all the same
Come on Mr. Lovewell, oh we could use a few more just like you
To care enough to give this life away
â Cause you've been changed/the Generous Mr. Lovewell loves today.
Overall, this album has some really fresh experimentation in musical textures and grooves going on that music lovers will appreciate. In a time where lack of musical creativity is more evident than anything else in some artists' works, it's clear that MercyMe invested abundant time in composing Mr. Lovewell. I love the retro 60's spy movie vibe in "Crazy Enough", showing us that the group's creative juices are far from tapped out. And "Beautiful" has a wonderful suspended trance-type texture that is both haunting and intriguing. Overall, each song on the album plays a part in building a colorful palate of sounds and musical textures.
No MercyMe album would be complete without a radio-friendly masterpiece; the out-of-the-ballpark anthem of the same magnitude in Christian music as "I Can Only Imagine". "All of Creation" appears tailor-made to fill that order. With Bart Millard's powerful vocals delivering this new anthem, the lyrics are drenched with praise to an all-encompassing Creator who made us to rejoice in His glory, and who opens the doors eternity for His believers.
Time's faded
And we see Him face to face
Every doubt erased
Forever we will worship the King
All of creation sing with me now
Lift up your voice and lay your burden down
All of creation sing with me now
Fill up the heavens, let His glory resound
Having experienced the album, it's clear that the idea of a "Mr. Lovewell" goes beyond just a "hook" for marketing a new CD. MercyMe uses the courtly character as an inspiration for listeners across the country to reach out to others with acts of charity, acts of kindness, and acts of love – to point them to the Author of love. It then becomes a powerful vehicle to change our world.
Yes, The Generous Mr. Lovewell is a chivalrous and thoughtful gentleman we should all get to know better – both within the confines of our CD collections – AND in how we interact with others.