Music Review: Hillsong London's "Hail to the King"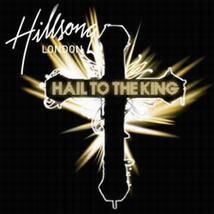 By Andrew Greer, christianmusicplanet.com
In just over 10 years Hillsong London has grown from 100 congregants to well over 6,000. And considering the mass market modern worship contributions its sister church, Australia's Sydney-based mega congregation, makes each year (think Darlene Zschech, Reuben Morgan), it is no surprise worship music aficionado Integrity Music has decided to distribute the church's fourth studio recording, Hail to the King, throughout the United States. Featuring 13 original tunes, Hail to the King attempts to translate the church's weekly worship experience to CD.
Rock-infused anthem, "Now" opens the record with its corporate cry: "Let your voice be heard/In all of the earth/Let this generation rise/Now." "I Receive," one of two tracks co-written with GRAMMY award-winning worship phenomena Israel Houghton, builds its way through five minutes of pulsing worship, segueing into "He is Greater," a Passion-esque catechism that offers the most corporate lyrics and easy-to-sing melody on the record.
Less inspiring, the title track leans toward punk-influenced rock with its driving snare and bright vocal, and a heavy Southern rock guitar solo pays a cheesy tribute to "Swing Low, Sweet Chariot" before pep-rally type background vocals add to the chaos.
Several other tracks suffer from similar production and less-than-effective content, causing the project to sound a bit canned. In fact, aside from the aforementioned highlights, it is hard to imagine these songs translating into any live setting where an audience is expected to sing along.
Nowadays a worship music collection is a dime a dozen. Hail to the King fails to up the ante.
Order Hail to the King directly from our E-Store
---
Used with permission --