Music Review: Brandon Heath's Sophomore Work, "What If We"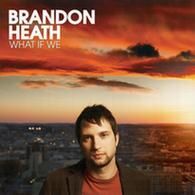 By Grace S. Cartwright, ccmmagazine.com
What if We…just the title alone will pique the curiosity of any seeker, eager to run with Brandon after the elusive. Mr. Heath doesn't disappoint, striking all the right chords on this, his sophomore effort. He paints the canvas of the radio-friendly opener with wide brush strokes of rising strings and a hip-hop backbeat. Track two is a jaunty, drum-driven song, with a hint at God's continuing work in our lives. The show stealer is the melancholy "London," where just the right mix of an evocative tone and a yearning piano make it Heath's most illustrious moment. Similarly, he scores with "Listen Up," a witty plea for men everywhere to lend a more sympathetic ear.
Lyrically, this Dove Award winner succeeds on every track, showcasing a maturity betraying his relatively young age. He also demonstrates versatility. "Fight Another Day" is especially infectious where Heath's joyous vocal shapes the "crank-it-up" chorus. Still elsewhere, he teams up with Christy Nockels (Watermark) to pen the worship song "No Not One" which proclaims God's supremacy.
There's something here for everyone, including the deceptively simple "Love Never Fails," a lush arrangement of gentle violins and finger-picked guitar that's sure to make its way into wedding ceremonies everywhere. What If We is an endearing 11-song journey, replete with fanciful arrangements, lyrical imagination and an authentic vocal that makes every step a joy.
---
Used with permission -