Music Review: Ayiesha Woods' "Christmas Like This"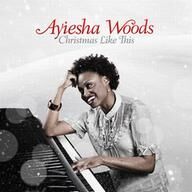 Each year, new Christmas music is wrapped up and packaged for music listeners' consideration for entry into their annual holiday music rotation. Among the many new 2009 offerings is Gotee Records artist Ayiesha Woods with her very first Christmas project, Christmas Like This. In an odd marketing move, Christmas Like This is an almost exclusively digital release, which is unfortunate, and the only outlet to obtain physical disc copies to sell is the online retailer MusiChristian.
Christmas Like This is a soulful project that mixes a bit of motown, R&B, blues and jazz into a delightful holiday package. "Merry Christmas Baby" kicks things off to set the tone for the album, giving previous covers of the song from artists like the Four Tops and Lou Rawls a run for their money. A dancing piano melody, saxophone accents and even some sleigh bells ringing behind the delicious, raspy leads from Woods help make "Walking In A Winter Wonderland" another standout track. "Jingle Bells" utilizes a little scat flavor for added fun before Woods slows it down a bit for a lovely piano ballad with a 50's doo wop flair in "Have Yourself A Merry Little Christmas" and then strikes up the motown with a rendition of "Rudolph The Red Nosed Reindeer" in the same vein as the Temptations.

But following another piano ballad with "O Holy Night," Woods tosses a bit of a curve with a reggae take on the popular "Joy To The World." While Woods successfully transforms the jubilant carol into a reggae tune, it sticks out a bit too much from the rest of what the album has to offer. Without "Joy To The World," Christmas Like This flows quite wonderfully from track to track with a very cohesive presentation, but instead, the song kind of throws off the groove, so to speak, of the rest of the record. Woods gets right back on track, however, for a jazzy rendition of "This Christmas," and closes the half-hour project with a beautiful piano ballad of "O Come All Ye Faithful," taking the album out on a worshipful note.
When all is said and done, Ayiesha Woods' first Christmas album is a festive and delightful solution for anyone looking for some new tunes this Christmas season. While none of the nine tracks (there couldn't have been one more track to make it a nice even ten?) are originals, Woods does pick a few gems that haven't been done to death, like "Merry Christmas Baby," "This Christmas," and "Have Yourself A Merry Little Christmas," while delivering fresh renditions of some of the most common ones. It's a great release and I personally look forward to listening to Christmas Like This each holiday season when it comes time to breaking out the Christmas records once again!

"Christmas Like This" Track Listing
Merry Christmas Baby
Walking In A Winter Wonderland
Jingle Bells
Have Yourself A Merry Little Christmas
Rudolph The Red Nosed Reindeer
O Holy Night
Joy To The World
This Christmas
O Come All Ye Faithful
---
Used with permission -