Music Review: Amy Grant, "Somewhere Down The Road"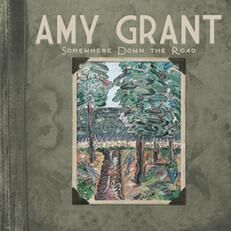 With a career spanning three decades and multiple mainstream and Christian music hits, to call Amy Grant an industry veteran is an understatement. The beloved songwriter's career has taken her from fresh-faced teen singer to CCM icon and crossover pop star, but in the past decade or so, things have appeared rather quiet since 1997's Behind the Eyes. A few projects surfaced, most notably two hymns records and a return to pop with Simple Things in 2003, and a label switch from Word to EMI yielded two best of compilations and a string of re-released classics in just a few years. For Amy's many fans, any announcement of new music is a cause for rejoicing.
Though a borrowed title looks like yet another hits compilation, fortunately for Amy's newest project, Somewhere Down the Road, that's not the case. Her first truly new record in seven years is a collection of songs old and new, built around the theme of a journey through hope, pain, joy, and sorrow. In a way, it's part retrospective and part looking ahead; along with revisiting classic material, she presents a series of firsts -- a first duet with her daughter Sarah, first songs recorded in her new home studio, and the first album to feature one of her paintings as the cover art. And altogether the threads of past and present create a beautiful, satisfying comeback.
The new song "Better than a Hallelujah" opens with a quiet piano line, and from the first notes, it's good to hear her voice again, strong and sweet as ever, laced with a world-weary maturity and comforting warmth. Story songs sometimes tend to indulge in overemotional cliches and wear thin after a while, but there's something about the way she sings these tales of broken people crying to God that is believable and touching. The premise of God turning pain into worship is a perfect setup for the songs on this record, leading into another bright spot in her duet "Overnight." The idea of artists performing with their children may draw skepticism at first, but Sarah Chapman has a surprisingly mature, Colbie Callait-ish voice that blends very nicely with her mother's. As a slightly poppier, though still quiet piano ballad, it stands out, encourages, and sticks with the listener.
Most of the songs are mellow and somber, but it's a darkness tempered by love and hope. Family of course plays a huge role in the song lyrics, as in "Unafraid," a live favorite ballad that reflects on her children and aging mother, or the heartbreaking "Come into this House," a raw acoustic song that captures a dark time in her life. "Find What You're Looking For" takes a hard, introspective look wondering "What would they find if they uncovered all of my tracks," while ruminating that "It never makes sense for any of us / To criticize the rest of us." To listen to these songs feels like flipping through a photo album, or listening to a tired traveler recount her adventures. To do this without falling into the sentimentality that often plagues this style is a gift that she has in abundance.
There are some upbeat moments that lighten the mood, but don't sacrifice lyrical honesty. "Hard Times" has a gospel-like chant that reminds us that "Hard times come / For everyone / And they'll come 'til we're done." The previously unreleased "What is the Chance of That" stands out as one of the most fun moments. It has a classic Amy feel with country-influenced guitar roots, storyteller style, and vivid imagery of passing trains and tangible restlessness, and is easily one of the catchiest songs on the record.
As for the few older songs, it's clear that they were chosen not for their hit song status, but for their contribution to the overall story of the album. On an initial listen, "Every Road" and "Somewhere Down the Road" come off as slightly dated in comparison, but at the same time they fit nicely into the theme, and for such a reflective collection, stirring in a little bit of the past is a nice touch. "Imagine/Sing the Wondrous Love of Jesus," previously found on her 2002 hymns record Legacy, wraps up nicely, a cover of the MercyMe classic "I Can Only Imagine" backed by a quiet hymn outro. It's hard to hear this song without thinking of the popular original version, but a new verse helps give the song her own spin.
For Amy Grant fans, new music is always worth the wait, especially after only a string of re-releases and compilations for the past few years. Don't let the recycled title fool you: considering this is mostly new and unreleased material, it's a must-have for longtime fans. It's also a lovely addition for anyone who enjoys thoughtful, emotional songwriting wrapped in a mature voice and gentle musical approach. Real, honest, and beautifully done, Somewhere Down the Road is a story worth hearing again and again.

Somewhere Down the Road Track Listing
Better Than A Hallelujah (NEW) (3:43)
Overnight (feat. Sarah Chapman) (NEW) (4:25)
Every Road (4:30)
Unafraid (NEW) (3:27)
Hard Times (NEW) (3:02)
What Is The Chance Of
That (Previously Unreleased) (3:28)
Somewhere Down The Road (5:09)
Third World Woman (NEW) (3:01)
Find What You're Looking For (NEW) (4:25)
Come Into My World (Previously Unreleased) (3:26)
Arms Of Love (2010 version) (NEW) (2:59)
Imagine/Sing The Wondrous Love Of Jesus (5:19)
---
Used with permission - www.jesusfreakhideout.com