Music Review: Addison Road, "Stories"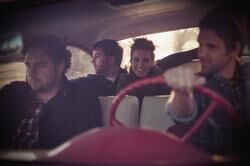 By John Bowen, Web Content Director
Fewer Christian artists have attended more classes at the "School of Hard Knocks" lately than Addison Road. It's hard enough getting a band off the ground, creating some fan buzz, creating some income, and ministering to audiences where ever you perform. For Addison Road, those complications were multiplied by their van and trailer being stolen twice, along with all their gear – only to have the recovered van later getting totaled in a collision with a fallen oak tree. Separately, a rented RV the band was using burned to the ground, containing all the members' possessions.
Is all this reason to cause band members to give up and find some other line of work – or is it the inspirational building blocks to write, record, and perform profound songs with deep heartfelt messages that audiences will connect with?
For Addison Road, all the elements are in place for the latter – with the release of their CD, Stories.
Produced by Grammy-nominated Chris Stevens (Matthew West, TobyMac, Big Daddy Weave), with some song-writing help from TobyMac, Stories is honest, compelling, and musically inviting. The album shows a musically mature group; utilizing a wide variety of styles and textures to express themselves, including the addition of harmonica and banjo from bassist Travis Lawrence. It's not sugar-coated "feel-good" tripe, but music that frankly conveys a group that has seen its share of disappointments. Yet, those setbacks are yielding a rich pallet of composition, and causing the group to look outside this world for their ultimate hope and provision.
Let's take a look at some of the more significant songs….
"Fight Another Day", the group's first radio release from this album, is written by TobyMac. It shares the same acoustic guitar/bass energy we enjoy from his music. Imagine Addison Road singing "Get Back Up Again". It's highly hooky, with great vocal harmonies and excellent layering of musical elements.
"Change in the Making" – Written at the time when lead singer Jenny Simmons gave birth to their first child, the event caused her to look at her imperfections as a new mother and her need for God to mold her into something she was not. It's the story of "me" under construction; an unfinished product that strives for perfection but falls short. God's not through with me.
If you could take a "musical snapshot" of the night the band's RV incinerated, and have them create a song from this catastrophe, "Won't Let Me Go" would be it. The heavy guitars throb while the words speak of life being out of control. Yet, despite this major setback, God won't let go of us. Case in point – the overwhelming prayerful and financial response from fans when the group's RV burned caused Jenny to reflect, "I just saw this really beautiful side of people working together and reaching out. We were reminded that God is very faithful to move in the hearts of His people. Over and over again, our needs were met in abundance."
For those that love Addison Road's unpretentious sound and Jenny Simmons' soulful syrupy vocals, you will absolutely love this CD! The grooves are at the same time artistic and catchy. Stories is less an album that celebrates the holy attributes of God, but more a candid look at our flaws as humans and our willingness to struggle, forgive, overcome, and prove ourselves wise stewards of our time on this earth. The band's candid glimpses at imperfection are equally appealing because we can all relate to the pictures they paint. Yet, this is a mature (or the band might prefer "maturing") Addison Road that brings an infectious groove and a ton of energy to each song on this CD. Addison Road will tell you – after this year of tragedy and triumph, Stories clearly demonstrates – they are ready to fight another day.