Budget-Friendly Road Trip Tips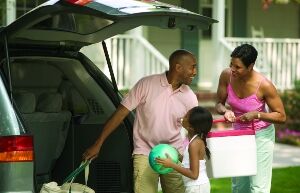 With warm weather season in full swing, now is the time to start planning your fun family getaways. If you are concerned about affording it all, author and financial expert Farnoosh Torabi offers the following tips to help you have fun and save money on your next vacation.

Bank on gas-saving apps
Look to budget-friendly websites, such as www.GasBuddy.com, which also offers an app that helps you find the closest gas station with the best prices near you. Another gas-saving app is Gas Hog. It costs 99 cents and calculates your car's fuel economy, then provides tips on ways to make your car more fuel-efficient.

Rent a car
It turns out that, contrary to popular belief, it can actually be cheaper to rent a car for weekend getaways than it is to drive your own. According to a study by Brett Smith, co-director, manufacturing, engineering and technology for the Center for Automotive Research, when renting a compact car from Enterprise Rent-A-Car at its weekend rate, the savings can come to 12 cents per mile. If your getaway is a 300-mile round trip, the fuel savings could be more than $20.

"By renting a car, you reduce the stress and mileage placed on your own vehicle, and you can upgrade or downgrade depending on the size of your family and fuel economy needs," explains Torabi. To learn more about the benefits of renting a vehicle for your summer getaway, visit www.Enterprise.com/familytravel.

Pack and save
On road trips, most people grab a few snacks every time they stop for gas. Over time, those candy bars and sodas can really add up. A family of four can easily spend $15.00 for drinks and snacks at just one stop. "One easy way to lower the cost of your trip is to pack your own food. Pack a cooler full of bread, peanut butter, string cheese, water, juice and plenty of fruit. You'll be less likely to splurge while filling up the tank, make healthier choices, and save a bundle over all," says Torabi.

Book hotels on Sunday nights
This is when the weekend rush is over and hotel managers have time to talk on the phone and discuss available discounts. Ask to get a free night's stay if you're staying for more than two nights. That's at least $100 saved right there.

Better yet - skip the hotel
Find cheap - but chic - guest rooms in local homes and apartments through websites such as www.AirBnB.com and www.OneFineStay.com.

"With a little planning and flexibility, your family can enjoy a vacation they'll remember for years to come," says Torabi.
---


Photo courtesy of Getty Images

Source: Enterprise Rent-A-Car